Restaurant Table Bases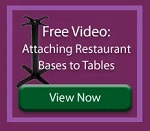 Getting a great look for your space starts with using high-quality restaurant table bases to create your design. We have a large selection of high-quality options that will help you support the tables you are after, so you can get a great style with the reliability and strength you need to serve your guests. We have many options made from durable stainless steel and cast iron, so you can get bases that will last for years and never wear out, whether you need them for indoor or outdoor use.
Our collection of restaurant table bases contains a wide variety of new bases that are built for durability and functionality. Each model has a commercial warranty to guarantee its reliability. All of our commercial bases are guaranteed to support any table you purchase when properly matched to ensure the perfect fit. We have many styles, from simple, functional standard bases to ornately finished designer bases. From the very affordable T-2222 X-base to the decorative column of the Pitti Designer base, we have a base style for every hospitality setting.
Whether you are using round or square table tops, you can find a base that will serve your needs perfectly. We are proud to provide the largest selection of quality restaurant table bases so that you always have what you need. With table top sizes ranging from 24 up to 60 inches and more, you will be able to fit and size the top you have so that you can provide quality seating for any size party with ease. Whether you are looking for simple support to complete your furniture or a great decor item to create a new style, you will find the perfect option for our selection.
Please give us a call if you have any questions regarding table bases for your business, we're always here to help. Our expert sales representatives will make sure you get the right size and design for your needs. If you need information regarding properly matching your bases with the right table, download our free guide.