Restaurant Tables & Table Tops - Pg 2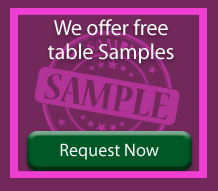 At Missouri Table & Chair, we build restaurant tables and wood table tops that offer durability, quality, and some of the most competitive pricing in the commercial furniture industry. All our tables feature our one-of-a-kind customer service that's tailored to each individual client. When you work with us, you're working with a business that understands the hospitality industry, what customers want, and how to make your establishment more profitable with the right look. Here is a guide to what we offer and why Missouri Table & Chair is the best choice for your business.

We Deliver Our Customers Quality They Deserve
When you purchase a restaurant table from us, you're buying a piece of furniture that delivers quality. Each table and wood table top is assembled from the best possible materials by people who understand their craft. We design each element of our tables with durability in mind and test all of them to ensure they can stand up to the toughest restaurant commercial conditions.
Along with quality craftsmanship, we offer highly competitive prices for all our products. With table prices as low as $28, we have a table option for every budget.
We Have The Entire Hospitality Industry Covered
Our tables aren't just for restaurants, but fit a broad range of hospitality settings, including:

Churches
Cafes
Cafeterias
Break rooms
Casinos
Bars
Coffee shops
Grocery stores
Banks

The Reassurance You Need
We're so sure of the quality of our tables that we back all our products with a commercial warranty, designed to help you know that your business is protected. Our expert customer service helps you select the perfect table for your specific hospitality location by ensuring you have the proper size, the right shape, and exact dimensions you need. We can even provide tips on colors and styles. After you have your table, our team is still there to support you should you experience any issue with our product.
We believe in building a relationship with our customers, with our high-quality products and excellent customer service team.

Our Wide Selection Means You Have Options
If you're trying to develop the restaurant of your dreams, it requires creativity and innovative thinking. The best restaurants aren't designed using bland ideas and boring color schemes. There is a science behind designing the best restaurants and maximizing your space efficiently. We will help you freshen your space and make it more inviting to all of your potential customers. Whatever type of commercial dining tables you are looking for, we have what you need. Whether you're searching for resin, granite, or laminate, we have plenty of choices available.
Our best-selling table is the custom-made butcher block, but we have many other styles and options available. Outdoor resin tabletops and granite tables are perfect for outdoor dining, and are available for quick shipping right to your door. Our tables are popular in the commercial food and beverage industry for good reason. It's not only the quality and versatility of our table design, but also that our furniture experts are always there to assist you in selecting the right table based on your budget, layout, and theme of your location.

Customization Ensures You Get Exactly What You Want
Once you give us your idea of the space you have, we can help you put it together. Our level of customization options is another key reason why our clients love doing business with us. You get exactly what you want. We deliver this order customization at no extra charge. For example, we won't charge you for matching stains, giving you radius corners, or delivering your table in special sizes. Missouri Table & Chair also offers you a handy guide on restaurant tables you can download for free, which will provide you the basics on selecting commercial dining tables that fit your unique location. If you're in the process of opening a new restaurant, redesigning your hospitality space, or simply brainstorming about a new look for your location, give us a call and we can assist you with all of your commercial dining table needs today.